Deeply interested in the cycle of life, Shay Church focuses on African Elephants and Gray Whales in his site-specific Wet Clay Installation series.
Elephant in progress
He describes the sculptures as "migrations interrupted", referencing the long, challenging migrations these mammals must endure each year. His installations "put a forceful, crude human twist on an elegant natural cycle".
"I believe in the natural cycles of the earth. Within these patterns of life and death is where I can find truth. While cities grow, wars rage, and industry climbs, nature's pulse continues to pound. Migratory paths remain, rivers continue to run downstream, wolves hunt, and insects are hatched." 
Beached Whale, 2009 ArtPrize Entry
 Beached Whale Installation, Cypress California
Installation of three beached whales
Philadelphia, 2010. Photo, Melody Kramer
Church and a crew of assistants first build an armature with wood strips, allowing spaces between the pieces of wood. The life size structures are then covered with wet clay, which slowly dries and cracks, eventually leaving each sculpture to look like a decaying corpse.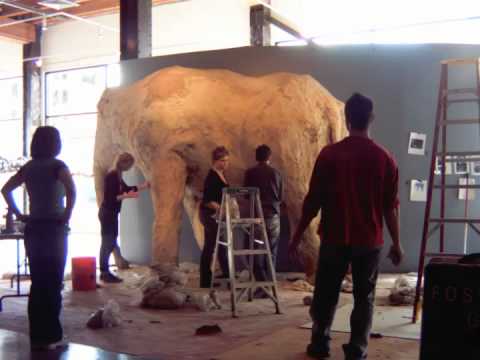 The time lapse video above allows us to witness the birth of one of his elephants. Wonderful.
Shay Church's website
At the beginning of a 2012 interview with Palomar College Television he explains how the volunteers who assist him are integral to the work. Watch the full interview here.